Soul sister
LITTLE TALKS : 295

PSEUDO : Red

AVATAR : Lou de Lâage

CREDITS : ava : Chrysalis, icon sign : VOCIVUS

ÂGE : 29

QUARTIER : 114 Lilac Road (Waterfall Avenue)


Sujet: Re: Charlene ~ Pretty eyed, pirate smile Lun 25 Fév - 15:27

---

Mais vous me décevez

c'est une actrice française pourtant

Merci à tous

_________________

the best right
in a million wrongs

©crack in time
membre qu'on adore
LITTLE TALKS : 319

PSEUDO : m.

AVATAR : margot robbie

CREDITS : PRINCESS. (avatar)

ÂGE : 32


Sujet: Re: Charlene ~ Pretty eyed, pirate smile Lun 25 Fév - 18:38

---

(re)

bievenueeeeee

sur le forum

_________________

i don't even know

if I believe

everything you're trying to say to me
poings dans mes poches crevées
LITTLE TALKS : 2469

PSEUDO : élissan

AVATAR : katherine langford

CREDITS : lunaeye (avatar)

ÂGE : 23

QUARTIER : là où l'on veut bien d'elle.


Sujet: Re: Charlene ~ Pretty eyed, pirate smile Jeu 28 Fév - 21:00

---

je ne sais pas si je dois vraiment reposter mais Charlene a quelque chose de très touchant, ça va être difficile de ne pas l'aimer

j'ai hâte de la voir en jeu

_________________

i've got the spirit but lose the feeling.

who is right, who can tell, and who gives a damn right now. until the spirit new sensations takes hold, then you know. (joy division)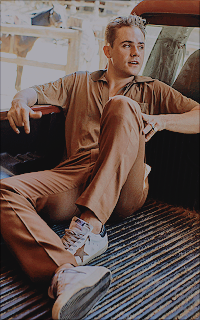 membre qu'on adore
LITTLE TALKS : 204

PSEUDO : dulce.

AVATAR : dacre montgomery.

CREDITS : villetchuckie (avatar) élissan (sign)

ÂGE : 24

QUARTIER : 114 lilac road, waterfall avenue.


Sujet: Re: Charlene ~ Pretty eyed, pirate smile Jeu 28 Fév - 21:08

---

C'est juste parfait ! J'aime énormément ce que tu as fait d'elle

Je donne bien entendu mon feu vert

_________________

sad, fat luck

it's worse when you think that you've got it all figured out. never even had a doubt. then the world ends.
président des girafes
LITTLE TALKS : 8587

PSEUDO : Caroline + Linoa

AVATAR : Garrett Hedlund

CREDITS : exordium (av) nate (gif) sial (sign)

ÂGE : 35

QUARTIER : 136 farming area


Sujet: Re: Charlene ~ Pretty eyed, pirate smile Ven 1 Mar - 12:01

---

fiche validée.

tu rejoins l'aventure.

C'est tout bon pour moi le personnage de Charlene est vraiment super intéressant, j'aime trop le lien avec Benny bon jeu avec ce personnage féminin

Tu es peut-être validé(e), mais ce n'est pas le moment de te reposer sur tes lauriers ! En effet, tu vas devoir faire ta

demande de logement

pour ne pas dormir dehors, et

recenser ton métier

pour avoir un rôle important à Redwood Hills. Tu auras aussi l'occasion de demander un

rang

pour égayer un peu ton profil et jouer davantage au geek en ouvrant ta propre

ligne téléphonique

en te créant un compte

instagram

. Bien entendu, tu as aussi droit aux éternelles fiche de

liens

et de

rp

. tu pourras recenser le nom de ceux qui sont

décédés

à cause de la rose lunaire afin que leur nom reste dans les mémoires. N'hésite pas à nous poser des questions si tu as le moindre problème, à rp, flooder et t'éclater sur

REDWOOD HILLS.

_________________

--- Ce que je veux dire,

c'est qu'elle avait des yeux où il faisait si bon vivre que je n'ai jamais su où aller depuis.

Sujet: Re: Charlene ~ Pretty eyed, pirate smile

---